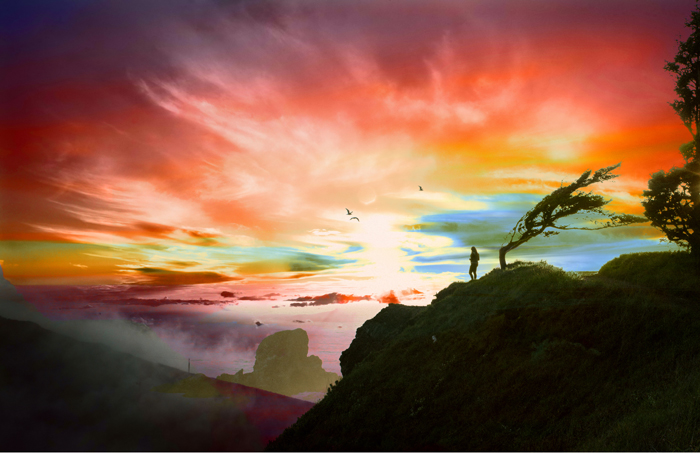 By Neale Donald Walsch.
The first belief we have to change
Dear traveling companions…
As we move into a new era the first thing we have to do is take responsibility for our past.
Now, now, don't run from that. This is not about taking blame, it's about taking control.
I'm not talking about "beating ourselves up" for what's gone wrong or what's gone before. What I am talking about is a moving into gentle, quiet knowing, a soft and compassionate holding, of a simple truth: We are not the victims here.
What's happening in our lives and all over our planet right now is good, but that goodness will be wasted if we do not see what is so; if we insist on imagining that we are somehow the victims of what is occurring; if we declare with fist-pounding certainty that these things are happening to us, not through us.
And so…
The first belief we're going to have to change is the belief in our own "bystanderness."
That manufactured word captures perfectly the thought held by many that we are helpless, hapless, and hopeless, forced to suffer silently and shiver fearfully in the face of what's going on and what appears to be coming. This is a false thought, an inaccurate thought, a misleading thought. More important, it's a dysfunctional thought. It causes us, quite literally, to dysfunction.
So let's get rid of this thought. Having turned the page, let's now turn our attention to an important awareness. Let this fourth conversation that we are having here, then, be about cause.
###

Acknowledging our role in the scheme of things
All of us can easily see, simply by looking around us, just how bad things have gotten on this planet. But now, a question…
Why
Isn't
anybody
 asking
why
?
This is not one of the Seven Simple Questions that I mentioned earlier. This is a question that stands all by itself, alone. It precedes the Seven Simple Questions, and creates a context for them.
Not enough people are asking this preceding question, much less answering it. I'm going to do both. It's part of that first belief we have to change. I'm going to stop being a bystander.
In a little booklet I wrote in Spring, 2011 I said something that I believe is worth sharing again here: Events on the earth are not created by Unseen Forces. We're not here subject to the whims of the gods, or, as William Shakespeare put it, suffering "the slings and arrows of outrageous fortune."
Even in the case of geophysical events, we are not entirely at the mercy of the elements. It may seem as though we are, but we're not.
Take earthquakes, for instance. They are real, they are occurring, and they are something that we are at some level creating.
Take hurricanes and tornadoes and typhoons and tidal waves and tsunamis. They are all occurring, and they are all something that we are at some level creating.
Take global warming, for instance. It is real, it is occurring, and it is something that we are at some level creating.
Or, for that matter, take the incredible and rapid spread of bacterial diseases sweeping across the earth. This, too, is something that we are at some level creating.
Of course, we don't have any intention of admitting any of this. At least, not the members of humanity's "establishment."
In a horrifying example of non-leadership, the U.S. House of Representatives voted 240-184 in the spring of 2011 to defeat a resolution that simply said that "climate change is occurring, is caused largely by human activities, and poses significant risks for public health and welfare."
Imagine that.
Now…are "we, the people" creating these events consciously? Of course not. Yet could we be creating these events unconsciously? Absolutely. Through our unconscious (that is to say, our unthinking or short-sighted) behaviors.
You're asking me to accept a lot here. No one that I know sits around deciding to produce an earthquake—and they couldn't do it if they wanted to. And there's no proof that global warming is "caused largely by human activities."
Would you agree to this—that human beings are more than passive observers in the rollout of life?
Depends on what you're talking about. If you're talking about tornadoes and stuff…
Well, let me ask you this. How many underground nuclear weapons tests do you think we can conduct before the massive explosions we produce loosen or dislodge the interconnecting plates that form the substructure of the planet's undergirdment, eventually resulting in earthquakes?
How much carbon can we emit before we overload the earth's natural greenhouse mechanism and cause significant warming of the planet, such that the rising temperatures of its massive waters produce geothermal conditions generating wind variations violent enough to call them hurricanes and tornadoes?
And please let me read a couple of paragraphs from the April 2011 issue of Scientific American:
"For more than 50 years microbiologists have warned against using antibiotics to fatten up farm animals.  The practice, they argue, threatens human health by turning farms into breeding grounds of drug-resistant bacteria.
"Farmers responded that restricting antibiotics in livestock would devastate the industry and significantly raise costs to consumers."
Would someone tell me how it could do both?
If it significantly raised prices (do you think meat-buyers would pay a bit more to live a lot longer?), how would the industry be devastated? The way the oil industry was devastated when gas prices shot up 30%?
This lapse in logic notwithstanding…who do you suppose won that debate? (Follow the money trail.)

###

Now the good news
Of course, I'm fully aware that there are those people who roundly poo-poo the notion that human activity has anything whatsoever to do with any of this, but I am here to declare (along with the overwhelming majority of the world's scientists, geophysicists, and medical researchers) that these activities are, in fact, intertwined, that we live in an interconnected world where one thing definitely and invariably leads to another, and that humanity is no more immune from causality than any other element of life itself.
To put this simply, we are at least part of the problem.
That's good news. Because if we are part of the problem, we can also be part of the solution. If we are not part of the problem, then we have naught but to endure it. Yet if we are part of the problem (and can admit that we are), then we are not utterly at the mercy of Unseen Forces.
With regard to human affairs, as opposed to physical occurrences, this is obviously true. We are completely at cause in the matter of the geopolitical upheavals of humanity.
Well, yes and no. It's true that political disasters are not caused by nature, but they are the result of human nature, and that is equally uncontrollable.
Really? I mean, is this true? Are human beings "just the way they are," with certain proclivities so "built in" that there is nothing we can do about our more violent, competitive, or survival-oriented nature?
Hasn't that pretty much been proven? Do you see human nature changing much?
Well I think this is something we're about to decide. The collective called humanity, I mean.
We are about to decide—and to announce our decision through our thoughts, words, and actions—what we consider to be true about us, and about our nature.
We are also about to decide whether we are ready and willing to change what has been true about our nature, due to the immaturity of our species, in earlier years. It is this choice that will be tomorrow's declaration; it is this demonstration that will be our new manifesto.
To me it seems perfectly clear: we can no longer move forward, advancing our own evolutionary process as a species, by demonstrating the behaviors of the past. It is as the late Walt Kelly's comic strip character Pogo memorably pronounced: "We have met the enemy, and he is us."
Yet if most people continue to insist that what has got to change is unchangeable—that the basic nature of our species is simply what it is, and that there is no altering it—then we are surely doomed.
There is nothing for us to do but cut and run, hoard and hide, surviving as best we can while the world falls apart around us.
On the other hand, if we renounce the Doctrine of Impossibility, if we reject the notion of our impotence, if we abandon the thought that we have no control over our behavior because of our very nature, a New Future opens to us; a New Tomorrow beckons. It can be the Future of Our Preference, the Tomorrow of Our Chosen Reality.

###

Victims or creators?
The first step in the manifestation of this grander eventuality is the embracing of a grander truth about the role we are playing, and have played.
We must decide: is life something that is happening to us or something that is happening through us?
Even with regard to geophysical conditions and events on our planet (over which, at first glance, we might imagine we have no control), we must decide that we do have a collaborative role to play in how those occur and affect us.
The Japanese calamity of 2011 is a remarkable example. Even if we assert that we had no long-range role whatsoever in the earthquake and tsunami (a position that I, personally, am not prepared to take), there is not a one of us who can deny that humanity definitely had a role in the nuclear disaster that followed—and can have a big role in avoiding these disasters in the future.
There are those who understand this perfectly…
On May 30, 2011 Germany formally announced plans to abandon nuclear energy completely within 11 years.
Eight of the nation's 17 plants that had been temporarily shut down would remain closed permanently, the government said. The remaining nine plants would be shut down by 2022.
This is a striking example of a world waking up. We're beginning to understand and to acknowledge the role that we, ourselves, have played in creating the storm before the calm. We're beginning to take a stand—not just to understand, but to take stand.
 _________
POINTS I HOPE YOU WILL REMEMBER…
* We are not the victims here, we are at least part of the problem.
* We can no longer move forward with the behaviors of the past.
* We don't need to take blame, we need to take control.
ACTION I HOPE YOU WILL TAKE…
* Change any belief you may have that you are a "bystander" in the way life is proceeding on the earth.
* Renounce the Doctrine of Impossibility.
8 Nov 2015.
© Neale Donald Walsch.
Prepared for publication by Dr. Gil Dekel www.PoeticMind.co.uk . Book published with permission from Neale Donald Walsch www.cwg.org .
The Storm Before the Calm: Book 1 in the Conversations with Humanity Series – by Neale Donald Walsch. Paperback published 1 October 2011, Emnin Books, Oregon, USA; ISBN-13: 978-1401936921