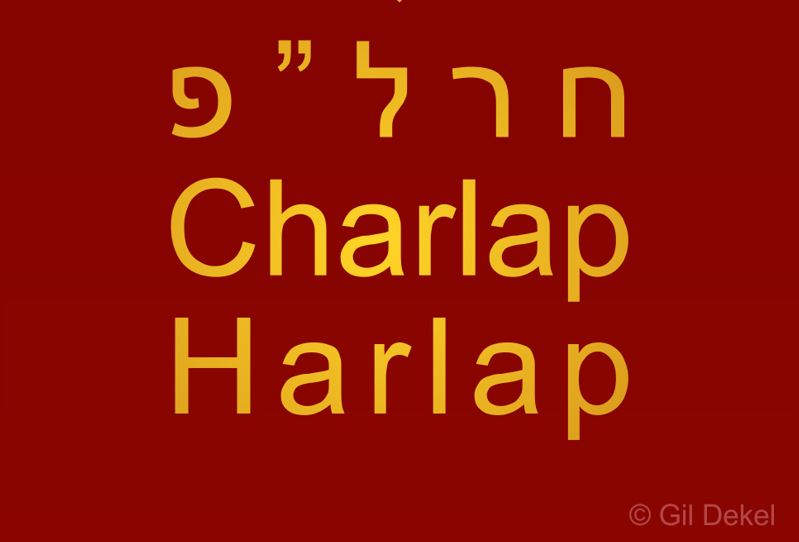 By Arthur F. Menton
and Dr. Gil Dekel for formatting and images.
Chapter XIX – The Left-Handed Tailors
Page 227
The early records from Poland identify many Mankutas living in our shtetlach, and also many who spelled the name Mankita. The latter seems to derive from the Polish word mankiet which means cuff or wristband. It would imply that an early Mankita was a tailor who had special skills involving cuffs. Mańkutem means "to be left-handed." We are uncertain whether the Mankita and Mankuta family are one and the same. Many Mankitas lived in Czyzewo and Andrzejewo, two of the centers of the Mankuta family. We are keeping records on these possible relatives and hope to clarify any connection. Meanwhile we can assume in a light-hearted mien that the first Mankuta was a left-handed tailor.
That was one Aron son of Hersch and grandson of Mikhel. Mikhel was born circa 1730.[1]  It seems the family was concentrated in the vicinity of Andrzejewo, which is close to Zaręby Kościelnie. Aron is the first for whom we have solid information. He married Rivka daughter of Elias about the year 1800 and settled down in Mrodzki. The Ser-Mankuta linkup occurs in this generation or the preceding one. That is, Rivka and/or her mother-in­law came from the Ser family. We have records of four of the children of Aron and Rivka. The first was Mikhel, named for his great-grandfather. Mikhel was born in 1805 in Mrodzki. He became a tailor and married Eydla daughter of Simcha Leibowicz and Sarah Parsiak in Andrzejewo on August 7, 1832. The bride was born in Krole in 1813. Mikhel and Eydla are recorded as having five children. Their first born, Aron, lived but six years, dying in Lenarti on January 5, 1842. The next was Rivka who was born in Letowniey on October 28, 1841. The next two died in infancy, one in Lenarti and one in Pierzchały, Grzymki. The last child of Mikhel and Eydla was Avraham, born on January 2, 1854 in Pierzchały. We have not discovered any information as to the later life of either Avraham or his sister Rivka.
The next child of Aron and Rivka Mankuta was Nahum. Born in 1807, he became a shoe last maker. Nahum married Rachel daughter of Meir and had five children between 1835 and 1844. They were all born in Lenarti, except for Aron, the youngest who arrived in Andrzejewo. We don't know what became of Nahum's descendants.
We do know a great deal about Manes, the third son of Aron and Rivka Mankuta.
Page 228
Before talking about him, let us introduce his younger sister Leah. She was born in Jachi in 1817 and on October 21, 1838 was married in Andrzejewo to Yisrael Gumowicz. He was a twenty-four year old tailor from Podbielą, the son of Moshe Israelowicz and Sarah Mikhelowna.[2]  That is the sum of our present knowledge of Leah and Israel Gumowicz.
Manes Mankuta was born in December of 1813 in Oldaki Poloni, a rural hamlet near Czyzewo. Like his brother Nahum, his trade was making shoe lasts. On December 15, 1839 he was married to Chana Wolfowna[3] in Andrzejewo. The bride had been born in Świecki nineteen years earlier and may also have had origins in the Ser/Charlap line. The early years of their marriage were spent in Andrzejewo where their eight children were born. The first of these were twin girls born in November of 1842. There was almost a nine year hiatus before the next child. A daughter was born in June of 1851 and in the autumn of 1852 a son arrived. Nothing has been found to document the lives of these first four children.
On December 28, 1855 a second son was born to Chana. They named him Yehuda and upon reaching adulthood he ran a small cafe in Pszeszyek, a tiny hamlet outside of Andrzejewo. There was almost no town but it was at a crossroads and was a good spot for a restaurant. Around the year 1885, Yehuda married twenty-five year old Dinah, daughter of Hersch and Beyla Zawlona Grappa. Dinah was a respected midwife. There is a complex relationship between the Grappa, Mankuta, Lewin, and Ser families which involve the Kristol, Glovnia, Greenspan, Shervanogura, Gura, and Migdal clans. All of these lines may be branches of our family and are being investigated.[4]
Yehuda and Dinah had five children. The oldest was Mordecai Leib, born in 1888, whose wife Frieda bore two children, Aryeh and Etka. Mordecai Leib had spent some years in the United States between 1920 and 1930. The fast secular life did not appeal to him. He felt that it would be impossible to retain his Jewish identity in America so he returned to Poland. Mordecai Leib operated a mill in Andrzejewo which he sold in the mid 1930s. He then bought another mill closer to Lomza city. When war approached he moved to Zambrow. On one Erev Shabbos during the German occupation, he was taking a live chicken to the schochet for ritual slaughter. The Nazis intercepted him and he was shot. Later, his wife and children were also murdered.
The next child of Yehuda and Dinah was a daughter Chuma, born in 1890. She married a relative, Herschel Gura. Herschel and all his brothers were butchers from Zareby Kościelnie (Zaromb). In 1935 Herschel took sick and his brother-in-law, Moshe Mankuta, took him to a hospital in Warsaw. Moshe's son, Yehuda, was temporarily living in Warsaw and went to visit Herschel in the hospital. It was too late. Herschel had died, perhaps from poor care. He was buried in the Jewish cemetery in the Praga section of Warsaw.
Page 229
Herschel and Chuma Gura had four children. At least three were daughters. The oldest, Sarah Beyla, married an attorney from Bialystock named Weinberg and had one child that we know of. They were martyred during the German occupation of Bialystock. Chuma and the other children were murdered in Zaromb. The Weinbergs participated in the Bialystock resistance, an episode of Jewish courage which has not received the attention accorded to the Warsaw rebellion. In Bialystock at the time were Kiejsmachers, Kurs, Lews, and Pakciarzs, all members of our family.
The Germans captured and occupied Bialystock on June 27, 1943. That same day, they set fire to the Groyse Shul and shot several thousand Jews in the area. Raids and mass shootings took place during all of July. The rapid penetration of the German army into Bialystock and the bloody terror paralyzed the people in the beginning, but when the initial shock passed (and after the Germans suffered their first defeat near Moscow), the fighting power of three political movements – the Bundists, the Communists, and the Zionists – began to get organized and sought to unite in a resistance movement. After a heated discussion, a plan to do battle on two fronts was accepted: an armed resistance in the ghetto against the fascists, and a simultaneous combat of partisan groups in the forests. Among the many difficulties, the greatest was acquiring weapons. From time to time the peasants would sell us something, but the danger was great. This might have cost us not only a great deal of money or gold, but also our heads as well. It was very difficult to bring arms into the ghetto. The German police and guards checked the clothes and belongings of the Jews who returned to the ghetto from work. Therefore, we had to hide the parts of the weapons very carefully or throw them over the fence at night at places which were not too well guarded. Several drivers took part in smuggling arms into the ghetto. They were the ones who took garbage out of the ghetto. In the barrels were special compartments in which they could hide various items. Two drivers, who were not afraid to take the risk, helped bring the disassembled weapons into the ghetto. Many of the drivers were [eventually] caught by the Germans and shot. In the ghetto, underground arms workshops were established. Resistance fighters did all they could to accumulate more weapons. They raided several German storehouses and were most successful when they infiltrated into the Gestapo arsenal at Senkievitch 15.

The first combat experience for the resistance fighters was in February 1943. Our young men and women fought valiantly in the battles on Tiepla, Smolna, and Chmelna Streets. At the end of the week, the Germans finished the "action." During the five or six days of fighting, about 10,000 Jews were deported from the ghetto to Treblinka and Auschwitz. About 800 Jews resisted and were shot. The German losses were not great – about sixteen dead and wounded – but that was the first time they encountered organized resistance in the Bialystock Ghetto. The spring months were utilized by the leaders of the resistance organization for two purposes. First, they succeeded in uniting all political factions and chose two military commanders, one a Communist and the other a chalutz from the Zionist
Page 230
organization. In August 1943, during the last battle of the Bialystock Ghetto uprising, the Zionist displayed excellent military capability. The second activity was the creation of partisan groups. They started leaving for the forests in January 1943. In February, March, and April, several other groups left for the woods. The Foroys platoon became the center of the Jewish partisan movement in the Bialystock forests. There were three other closely allied groups. The Foroys platoon was concerned with diversion, coordination of Jewish groups, creation of a base for receiving new recruits and information about the situation from the front.

In the beginning of June 1943, I received an order to leave the ghetto and join Foroys. The escape and subsequent travel through the forest was well planned. During the summer of 1943, the platoon liberated fifty Russian prisoners of war. I became acquainted with outstanding Jewish partisans such as Chono Lew and others. I also met my future wife. About fifty of our Jewish partisans lost their lives in action that summer.

In the beginning of August 1943, the Nazis decided to liquidate the Bialystock Ghetto. On August 16 they initiated the action. They summoned three battalions of penal soldiers (two were Ukrainian), and mobilized the Bialystock police, the SS, and the Gestapo. The ghetto was surrounded. The Germans not only had automatic weapons and machine guns, but also artillery, tanks, and even airplanes. They understood the mistakes they had made in the battle of the Warsaw Ghetto. On August 16, the Jewish population received an order to gather on Yurovietski Street for "evacuation" to Lublin to "new work stations. " The resistance leadership circulated an appeal not to believe the Germans and for the Jews to stage an armed rebellion. This was the beginning of the uprising in the Bialystock ghetto. Our underground organization numbered about 200 men, women, and young people. We had 125 revolvers and rifles and a few hand grenades. The ghetto fighters fought courageously against the Germans. A few groups tried to storm the ghetto fence but were unsuccessful. Many of the fighters died – not only men, but women, girls and young boys. The uprising lasted over five days. Eighty Germans fell. Their Red Cross wagons removed dozens of wounded Germans from the ghetto each day. By the end of the week, the organized resistance had been defeated. The Germans removed about 35,000 Jewish men, women, and children from the Bialystock Ghetto. A large number of transports were directed to Treblinka, others to Auschwitz. Before and during the uprising, Foroys attempted to provide weapons to the heroic fighters. Unfortunately, the attempt failed. We did manage to set up security watches in the nearby forest. We welcomed fifty or sixty people who had extricated themselves from the ghetto or jumped from the death trains.

Foroys continued its battle against the Nazis. The fighters of the heroic uprising of the Bialystock Ghetto occupy a distinguished place in the history of the Jewish armed resistance against the Nazi murderers. The heroic acts of the Jewish youth – young boys and girls, and even younger children – and their more mature friends in the leadership represent the second most important armed mass-resistance of those who were imprisoned in the ghettos of Europe, following the uprising in
Page 231
Warsaw. Along with the Jewish fighters of Warsaw, Wilna, Minsk, Lemberg, Slonim and other Jewish communities, the Bialystocker Jews fought bravely in the ' street barricades and in the forests against the bloody enemies for the honor of the Jewish people.[5]
Now, let us skip to the fourth child of Yehuda Mankuta and Dinah Grappa. His name was Zawel, or Zebulon in Hebrew. He emigrated to New York and lived for awhile at 288 Madison Street on the Lower East Side. In America he was known as Saul Minken.[6]  Saul got married and moved to The Bronx where he may have operated a commission bakery on Bathgate Avenue. We know that in 1946 he was living at 1291 Hoe Avenue in The Bronx.[7]  Then his wife had a tragic accident. She was severely crippled from a fall in an elevator shaft. Saul could not cope with his wife's infirmity and he left her. They had one son who became a musician. Saul's nephew in Israel, communicating in Yiddish and Hebrew to English speaking relatives, told us that this son played for an orchestra composed of firemen. Later, I learned that he was a trombonist with the Firestone Orchestra, sponsored by the giant rubber company.[8]  Saul never was formally divorced but it is said that he lived with another woman named Paula.
The third child of Yehuda Mankuta and Dinah Grappa was Moshe, born in Pszeszyek in 1892. He married Rachel, daughter of Moshe and Elka Glovnia, and settled in Zaręby Kościelnie. He worked in a mill owned by a cousin Yankel Grappa and later became a textile laborer. Rachel, who was two years younger than her husband, bore three sons and two daughters. One of the girls died at age twelve from an infection that resulted from a sewing machine accident. One of the sons, Kalman, was a watchmaker in Małkinia. Except for one son, the entire family of Moshe and Rachel Mankuta were lost in the Holocaust. The children's names are Kalman, Aharon Veivel, Elka, and Chana Doba. Only Yehuda survived. He and his family are exceptional people and it sends home just how terrible a tragedy we suffered. We lost not only numbers but people of wonderful character and talent, whose accomplishments remain forever unfulfilled.
I acquired much of the information about this family in meetings with Yehuda and his son Aharon. Early in 1992 I had received a letter from Harry Mankuta in Israel that his cousin Aharon Manor, the name was Hebraicized from Mankuta, was temporarily living in
Page 232
the United States. Harry wrote that Aharon was "an outstanding electrical engineer. He had a position with LUZ, the Israeli solar energy company, but they recently folded. It would be nice if you had some contacts for him in the Washington, D.C. area."[9]  By now, the reader is surely aware that I love to learn of and meet new relatives, especially Israelis. In Aharon there was also the professional relationship which was of interest and I could possibly be of help to him. I called him upon receiving Harry's letter and before long Aharon, his wife, and three of their five children were visiting with us.
It was as if Nancy and I had met a brother and sister we hadn't seen for years. Aharon and Esther are now dear to us as friends in addition to the family relationship. Furthermore, no one has shown more interest in tracing the family's history than Aharon.
Aharon was born in Glil Yam, a kibbutz near Herzliya, on October 6, 1947. In 1973 he married Esther Atia who was born in Algeria, one of nine children of a fiercely Zionistic family. The family also identified with the effort to keep Algeria under French control. Esther's uncle was a much decorated heroic figure in that struggle. Serving in the French army, he was the scourge of the Algerian nationalists and was finally murdered in a terrorist attack. Meanwhile, two of Esther's brothers had left for Israel to fight in the 1948 War of Independence. In 1956, three years before his death, Esther's father brought the rest of the family on aliyah. The Atia family were among the 3,500 Algerian Jews who left for Israel between 1948 and 1964.[10]
Esther was brought up in an observant household but she also excelled in science and wanted to engage in medical research. Aharon and Esther had not completed their education when they married but nevertheless they set about to build a family. Their first child Avi came after one year of marriage. The others, Yochai, Moshe, Chen, and Sarai were born in between course work at the university. Sarai, the youngest, was born in 1989. Aharon had become an engineer and Esther had earned her Ph.D. in microbiology at Ben Gurion University, where she now directs research in virology and associated medical areas. At the time of their visit, Esther was a visiting professor at the University of Maryland.
Aharon told us something of his father and his exploits during World War II. He thought Yehuda was born in Zaręby Kościelnie and in 1934 or 1935 moved to Lodz. Many in the Ser family had already relocated there, especially the branch that had lived in Brok. Yehuda was in Warsaw when war broke out. He hurried to Lodz and shepherded his family back to Zareby and then to Bialystock so that they would be on the Russian side of the border. The Germans were still nominally at peace with the USSR and Yehuda correctly assessed that they would be safer on the Russian side of the border. Somehow Yehuda and his brother Kalman learned how to maneuver between German held territory and Russian occupied Poland. Yehuda ran an "underground railway" in which he organized groups of Jews and led them across the border to Bialystock and then to Wilna. He rescued hundreds in this way. Tzivia Lubertkin and Yitzhak Zuckerman, who were leaders of the Jewish
Page 233
underground heard about Yehuda's exploits. Zuckerman, known as "Antek", was a hero of the Warsaw Ghetto uprising. He became a colleague of Yehuda Mankuta who was a wartime hero in his own right. Yehuda provided us with the following account, written by Zuckerman, which had been presented to Yehuda by the Ghetto Fighters' Kibbutz, Lochamei Hageta'ot.
In Bialystock I wrote my "Last Will and Testament," and began to search for a way to get behind German lines. Yehuda Mańkuta had been a student of mine in Warsaw and I met him once again in Bialystock. His family lived in Zaromb (Zaręby Kościelnie). That was just where the border passed separating the Germans and Russians. Yehuda was thus familiar with the area and had been assigned by the He-Chalutz training kibbutz in Bialystock to smuggle Chalutzim from German territory to Wilna. He was adept at avoiding detection and seemingly passed at will between the two sides. Actually it was very dangerous and difficult to escape from Warsaw to the Soviet zone; and nigh impossible to go the other way. It was forbidden to approach too close to the border. The limit was two railroad stops beyond Bialystock. One night, Yehuda Mańkuta guided me from Bialystock and we boarded a train going west. We avoided the freight cars which had elevated cabins where guards were posted. Yehuda checked out a passenger car and after affirming that it was safe found a place for me. At each stop, Yehuda would get off and talk in a loud voice to deflect attention from me and also to let me know he was on guard. It was night when we arrived at Czyzewo, which was already in the forbidden area because of its proximity to the border. We alit and saw desolation. Czyzewo was a ghost town. The snow was falling on the dark silent streets. No one could be seen amidst the destruction. The inhabitants had either fled, were in hiding, or were dead.

Suddenly we were stopped by two Soviet border guards. They aggressively interrogated us as to why we were there. Yehuda produced some documents and as he responded I fumbled for some matches to illuminate them. I let Yehuda do all the talking as I had nothing to show the guards and no explanation for my being in an abandoned town so close to the border. Yehuda mentioned his relatives living in a town near Zaromb and gave the name of a local watchmaker.[11]  His explanation must have sounded convincing because they let us go.

We continued walking for a long time and finally arrived in Zaromb. It was still night. Yehuda led me to an apartment owned by some Jews. His task was to find someone who could sneak me across the border. The next town was Małkinia, close to Treblinka. The border passed right through Małkinia. The town itself was in the hands of the Russians but the Germans controlled the railroad station. I waited one day and then another. The third day came and the longer I sat, the closer I felt to collapse. There was a young woman there who was very depressed.
Page 234
Neighbors informed me that the Germans had raped her and then killed her husband, a rabbi. There were many horror stories. I didn't need to hear any more. In another day or two, I wouldn't have the emotional strength to hold out.

Then Yehuda returned with the news that my gentile guide hadn't yet arrived and it would take some time. I was exasperated and gave him an ultimatum: either he'd take me across within twenty-four hours or I would attempt it myself. Yehuda was unsuccessful in coming up with a gentile so he decided to lead me himself. And he devised a plan to sneak across the border. We walked the few kilometers to the last village on the Russian side. We avoided the side roads and strode in a confident manner on the main highway. Yehuda told me not to act in a furtive manner but be natural, talk aloud, whistle – we didn't want to look out of place. Yehuda spoke to me in a loud voice, telling me of the village we were going to and of this gentile girl who "entertained men." If someone were to stop us we wanted it to appear that we were not out of place but, like any young men, were there for our pleasure. We continued on and as dusk approached we passed the last border patrol. I saw lights in the distance as we entered the most dangerous area. It was a few days before Passover and the spring thaw was melting the snow. It was rough going especially as the darkness descended. I had thought I was in good physical shape, yet I was falling on my feet. I recognized two truths then: I needed to summon all the strength I had and I could never be a scout with the partisans. On the other hand I was astounded at Yehuda's prowess. He was very strong and his senses were most acute. He led me through the darkness and mud, bending low to listen to rustling noises, seeking guide marks in the dimness. He seemed to know every shrub, every tree, every rock. He was shorter and thinner than I but of much greater endurance. I wanted to stop and rest but he wouldn't let me. Danger was lurking everywhere, both on the Soviet side and the German side. Rest could do us in so he forced me to keep moving. I begged him to let me sit down for just one minute but he adamantly refused. He kept moving lithely toward the border with me trailing after him. Most of the night was spent this way. We must have traversed some seven or eight kilometers. We weren't walking on paved roads now. Rather we were tramping through deep mud and fields of melting snow. Suddenly we came upon a barbed wire fence with a system of alarms that would go off if it were cut. Getting past this Russian fence was perilous. Yehuda knew of a section that had been cut previously. Somehow he found it and we got across to the German side. Now we were really in dangerous territory.

Yehuda continued on with me all the way to Warsaw. This loyal friend stayed even though I was now in familiar terrain. We walked on for a few more hours and every ruined house beckoned me to come in and rest but Yehuda spurred me on. Before dawn we passed the Mikołajczyk hut. He was a leader of the Peasants' Party. He didn't know Yehuda Mankuta but nevertheless gave us a warm welcome. We were exhausted and drenched. The peasant lit the oven, laid some straw down and covered it with canvas. We undressed, lay down stark naked, and immediately fell asleep.
Page 235
We put on our warm dry clothes and decided to leave for Warsaw on the early morning train from the Małkinia station. I was not aware of nearby Treblinka nor what was being planned there. But Mańkuta and Mikołajczyk knew that Małkinia was a dangerous place and was swarming with German guards. Anyone who passed by was risking his life. They decided that a gentile would buy two tickets in the morning and then we would come down to the station. After getting the tickets we would take another precaution. Rather than presenting them to the guard we would wait behind a fence about 200-300 meters down the track around a curve. As the train passed we would jump on since it would still be moving slowly. Everything proceeded according to plan and we ran up to the passing train and jumped on. But the Gestapo had taken over a building just beyond the curve and started shooting. Yehuda was in extra danger as I had jumped on to the outer platform first. A sympathetic railroad worker called out to me, "Throw away your bundle." I discarded it and opened the door to the car and jumped in. Yehuda was still hanging on outside as the Gestapo opened fire. I stretched out on the floor with the many other passengers. Yehuda also came in and lay down on the floor. After a while I went over to look at the platform and door. The bullets had struck close to where Yehuda's head had been. A matter of inches and his life would have been over. Meanwhile, at each station peasants with baskets boarded the train. The police were looking for someone with a basket and since I had discarded my bundle they left me alone. No one approached either of us and they apparently did not know we were Jews.

On a lovely spring day in 1940, we reached Praga, a suburb of Warsaw. We hired a carriage, whose driver was Jewish, and went to the Jewish section. This was the first time I had seen the infamous armband with the Magen-David, that Jews were forced to wear. Yehuda Mańkuta, having brought me safely to Warsaw, retraced his steps to the Soviet zone where he was promptly arrested and held for several days.

It was almost Passover and the Germans incited the Poles to attack the Jews. These were very hard times. Bad as my experiences were on the Soviet side, they did not prepare me for what was to come. I saw the ruins of Warsaw and German soldiers hunting down Jews. I had to learn all the escape routes. On Passover, a pogrom started with Poles and Germans abusing Jews. Of course, it wasn't so awful as what was to ensue later, but it was a shocking introduction to life in Warsaw under the Nazis.[12]
We were to meet this hero, Yehuda Mankuta, in May of 1992. A few months after their first visit, I received word from Aharon that his parents had arrived from Israel. I insisted that they come up for a visit. They were thrilled to accept the invitation. Yehuda
Page 236
Mankuta, at seventy-five, was still the lean, well-conditioned man described by Antek. Although Yehuda and Brucha speak no English we had a delightful time and with Aharon serving as interpreter learned much more of their history.
Brucha Kleiner was born in Grabovietz (Grabowiec) on January 18, 1920. Grabowiec is southeast of Lublin, and at that time, was close to the Polish-Ukrainian border. It is due south of Chelm and just a little to the northeast of Zamosc. Brucha was in Warsaw from 1934 to 1940. She managed to flee to Bialystock at the time Yehuda was running his "underground railway". The aim was that once the Chalutzim got to Wilna, passage could be arranged to Palestine. Sometime during 1940 the Wilna option to Palestine was closed. The British were blockading Zionist infiltration into Eretz Yisrael and Stalin's regime was not sympathetic to the Jews. But the way was still open when Brucha arrived in Bialystock en route to Wilna. Unfortunately before reaching Bialystock she had fallen under a wagon and both her legs were crushed. She was unable to continue to Wilna.
Other more dangerous paths to Palestine existed. Some Jews were smuggled through German controlled Warsaw to Czechoslovakia or Hungary. There bribery allowed some to get through to the Mediterranean region where ships would take them to Palestine. Yehuda was involved in all of these activities and had designed the prototype rescue operation in September 1939. First known as Freiheit, his group developed into Dror (Freedom) and then HaBricha (The Runaway). His own family was not very fortunate.
After 1939 all my parents' children were in Bialystock. They had gone from Lodz to Zaromb and then to Bialystock. Kalman and I knew how to take the best routes. The family lived in a "safe house" owned by the Chalutzim. It served as a haven for refugees from the Warsaw area. The Mankuta family was a "front" – the organization wanted to put on the appearance that it was simply a family home. When the German invasion reached Bialystock, my brother Kalman and seventy other Jews were taken away. We never saw him again. It was 1941. They were taken to the forest and shot. The family then was penned up with other Jews in the Bialystock Ghetto. There was fierce fighting and the Jews gave the Germans a good battle. It wasn't as famous as the Warsaw Ghetto uprising, but Jews fought and died bravely. Both my parents died in Bialystock during the war.[13]
Brucha and Yehuda were married during Succoth 1946. He was still very active in helping the displaced Jews. An interesting series of events involved Miriam Grappa, Yehuda's cousin and later to become the daughter-in-law of his aunt. The story appeared in a Zaromb memorial book and is presented here in somewhat altered form.
Miriam Grappa was the daughter of very young parents. They wanted her to survive and when she was eight months old they gave her to a Polish woman whose family worked in Yankei Grappa's mill. Yankei was a first cousin of
Page 237
Miriam's grandfather. After the war, Yehuda Mankuta learned that Miriam was still in the custody of the goyim. He had known them earlier in his life so he traveled to Zaręby Kościelnie to seek her return. The roads were very risky as the Polish anti-semites were attacking the remnant of Jews who had survived the Nazi onslaught. Train travel was also dangerous. Anti-semitic thugs would wait at railroad sidings and assault any Jews who appeared.

Yehuda had a great deal of experience in traveling safely through hostile territory. He got to Zaromb and approached the gentile woman who held Miriam. She asked for an exorbitant sum of money and also demanded that Yehuda's organization should insure her safe passage to the United States. This goy was terrified of her Polish compatriots. They had warned her not to return the child. They wanted Miriam to be a Catholic. Yehuda gave her all the money he had in his pocket and told her that he'd appear with a truckload of soldiers so that she wouldn't be blamed by her neighbors. But she wouldn't agree. Instead she'd bring Miriam to Warsaw and turn her over. Yehuda was doubtful but he had no choice. Surprisingly, the woman kept her bargain and Miriam was recovered by Yehuda. But two weeks later she recanted, probably at the prodding of her fellow Poles. She demanded that Yehuda give her the child. It was decided that Miriam should disappear. Yehuda arranged that she be spirited off to Israel by way of France. After Brucha and Yehuda made aliyah they adopted Miriam and she lived with them on Kibbutz Glil Yam. In 1983 Yehuda visited Poland and heard that anti-semitic townspeople had killed the woman for repatriating Miriam to the devilish Jews.[14]
Miriam Grappa later married her cousin Eliezer Kristol, a match that was arranged by Yehuda and Brucha. Eliezer's parents were Leibel Kristol and Frieda Mankuta, the fifth child of the elder Yehuda Mankuta and Dinah Grappa. This was Frieda's second marriage. She had been divorced from a Mr. Sapir after having one son. That boy, Littman Sapir, [15] was to become a victim of the Holocaust. Leibel was thirty years older than Frieda. He, too, had been previously married and was the father of four children. Frieda was no longer a virgin and would be hard-pressed to find another mate, so the marriage was arranged within the family. She bore two sons for her new husband, Eliezer and his older brother Chaim.
Eliezer and Chaim were children during World War II. In August of 1939, as war clouds loomed toward the west, they were attending different summer camps run by Jewish organizations. Emergency meetings of the community were held and the camp directors were invested with the authority to guide the children to the east. The aim was to get them into Russia to save them from the impending Nazi invasion. Sarah Beyla Weinberg, who
Page 238
was extremely pretty, used all her feminine charm to obtain places for Eliezer and Chaim. Through her efforts they were evacuated and saved. After the war, Tobias of Lomza, one of the camp directors, returned and took many of the children to Israel. They passed through the Lodz DP center where Yehuda Mankuta was then working. Eliezer thought he recognized his older cousin but was transferred to an embarkation center in France before he could make contact. From France, in a letter to a friend who had remained in Lodz, he asked that Yehuda be informed that Eliezer was on his way to family survivors in Israel. The friend alerted Yehuda who was ecstatic that additional family members had managed to get through the war. He asked to be relieved of his duties so he could make aliyah. In France, he found Eliezer and they went to Eretz Yisrael together. It was April of 1947.
Eliezer grew to manhood in the Jewish homeland, became a carpenter, and was wed to Miriam. Two daughters and a son resulted from this union and there are now four grandchildren.
Chaim Kristol also survived the war. He stayed in Russia, became known as Vassily Kristolov, and studied electrical engineering. Vassily married had two children and is now a grandfather. These relatives may yet join the exodus from the former Soviet Union and reassemble with their family in Israel. Unfortunately, Leibel and Frieda Kristol will not be there. They died in the Holocaust. Miriam Grappa Kristol died of cancer in Israel in the Summer of 1993.
Yehuda clarified information about the oldest child of Sarah Silverburg, my grandfather's sister. That was Moshe Silverburg who had married Dvora Glovnia, a sister of Rachel, Yehuda's mother. Yehuda said that his father, Moshe Mankuta, was in the Russian army during World War I. The Mankutas had previously gone to Lodz and now they were stranded there. Moshe Silverburg came to their aid and took them all back to Zaręby Kościelnie. In the mid-1930s Moshe Mankuta returned to Lodz to seek employment in the textile factories.
Moshe Silverburg's daughter, Elka, and Yehuda Mankuta were more than first cousins. Their mothers were sisters and they were also related through the complex Ser- Mankuta connection. Yehuda augmented Elka's story reported on in Chapter VIII. According to Yehuda, Elka had married Avram Rudatch (Radacz) in the mid-1930s. They lived in Warsaw where Avram worked as a furrier. They were forced to Siberia by the Russians in 1940 and were released when the Germans invaded Russia in 1941. A few Jews banded together and lived in the Siberian forests. Sarah Levy and her husband were in the same group. Toba and Moshe Stalkowski were in another group some eight miles away. Sarah had lost her baby, but Dvora, the daughter of Elka and Avram, was holding her own. Then Elka died and Avram was about to be inducted into the army. He gave Sarah Levy his only possession, his coat, in payment for caring for his baby daughter. He never returned from the army.
Yehuda was also in the Russian army but he deserted to help displaced Jews. In his travels he met some Jews from Mlawa, Sarah Levy's town. They told him that Dvora had survived and was living with Sarah, perhaps in Lodz. In 1946 Yehuda went to Lodz and combing through photographs of displaced persons, recognized Dvora. Taken in happier times, she was on a tricycle, posing with his brother Kalman. Upon identifying the
Page 239
photograph to authorities they gave him Sarah Levy's address and he found Dvora. She was sent to an embarkation center in Germany to be prepared for aliyah.
Yehuda had been searching for other family survivors. He located Toba and Moshe Stalkowski in a DP camp in Vandenberg, Germany. Moshe was working as a guard in a camp on German soil. A few short years had completely changed the power relationships. Here was a Jew with authority over Germans. Moshe and Toba corresponded with Yehuda who was still in Lodz working for a Jewish agency helping displaced Jews. He alerted them to Dvora's plight and they found her before going on to Israel. That was not so easy. There were staggering logistics and rehabilitation problems and there was still the British blockade of Jewish immigration. The Stalkowskis with Dvora managed to get to Israel while Yehuda stayed behind and continued to work for the rescue of other survivors. He despised working with the anti-semitic Poles but he masked his true feelings so as to arrange safe transportation to Baltic ports such as Szczecin (Stettin) and Gdansk (Danzig) or to railroad centers in Czechoslovakia. He continued in this work until coming to Israel. Yehuda and Brucha arrived aboard a French ship, Providence, on April 4, 1947. It was before the United Nations partition plan and the British were still trying to limit Jewish immigration. Yehuda, however, had obtained forged papers claiming that he and his wife were returning citizens. Within a year Yehuda was a member of Haganah, fighting for the survival of a new Jewish nation. In one memorable action he captured an Egyptian pilot who had landed on the beach at Herzliya.
In Israel, Yehuda discovered another branch of the Mankuta family. Wolf Mankuta, the son of Eliyahu, had married Leah Greenspan, from one of those families which is somehow tied into ours. Wolfs son Moshe is an upholsterer in Kiryat Yam. Leah is still alive and Yehuda is trying to understand the complex relationship between them. Perhaps in the next edition of this book we will be able to report on his progress. Until then we must be content with the names of a large number of Israeli Mankutas who derive from this branch of the family.
Let us go back to the family of Manes Mankuta. We had already met another of his sons, Yankei the miller of Nur. Yankei married a local Nur girl who also happened to be his cousin. Rachel Leah Tama made Yankei a father nine times over. One of their children was Kalman, whose family was discussed in Chapter XVIII. Another son was Itche, the husband of "Tall Tillie" Kiejsmacher, discussed in Chapter X. There was one other son and six daughters. The son was Bendit who married a girl named Choma, set up a home in Ciechanowiec, and sired four beautiful children. The whole family perished in the Holocaust. Bendit's sister Liebe and her young husband Chono also disappeared during the war. We suspect that they, too, were victims of the Nazi bestiality. Still another daughter who met an early demise was Maite. She and her young husband died of pneumonia.
In the Autumn of 1887, in Nur, Rachel Leah presented Yankei Mankuta with a daughter they named Sarah. She married a cousin in the Tama branch of our family. We will defer their tale until we delve into the Tamas' history. Sarah's sister Chana also married a cousin. This time the groom came from the Lew branch of the family. We have no record of any issue from this union. All we know of them is that they, too, were Holocaust victims.
Page 240
Fruma, born on October 30, 1893, was still another daughter of Yankei and Rachel Leah. She was married to Yitzhak Moshe Kafka, a shoe manufacturer in Nur. He was widowed from his first wife, Pearl Zgadny, and he already had two daughters. It didn't stop him from having four more daughters with Fruma. They were all born in Ciechanowiec. Yitzhak Moshe was brought to the United States around 1936. He was sponsored by his aunt Malka Liebe Kafka Cear. Once in America, he brought the others over two or three at a time. He managed to get them all out of Europe before the war erupted.[16]  In America, the parents were known as Morris and Frieda Kafka. Their daughters were Pauline, Frances, Ann, and Lillian. All four girls married and produced seven children between them. To date, there are only five children in the next generation. There has been little enthusiasm shown by this line for the family research. That is sad, because it is likely that the Kafka family is also related to us. Frieda Mankuta Kafka died in 1993, just shy of her ninetieth birthday.
One more of Yankel's daughters must be accounted for. That is Treina, born on March 6, 1908. In 1935 she married Fischel Rydz, a local Nur boy. Three sons were born to this couple; Avraham, Mordecai, and Yankei (Yaacov). As war approached, Fischel and Treina tried to enter the United States but the gates had closed. They managed to find safe haven in Cuba where they became Felix and Teresa. Their children's names were also given a Spanish lilt, Mordecai became Manuel and Yankei was now Jacobo. The boys married and there are now nine grandchildren. Felix built a thriving art supply business in Cuba. The success of Fidel Castro's revolution ended the halcyon days for the Rydz family. Felix and Treina were branded undesirable bourgeois elements. Their business was confiscated, but they were fortunate in finding asylum in the United States.
We return now to the nineteenth century and the family of Manes Mankuta. We have yet to account for two more of his children, Chaim and Etka. Chaim was born on March 19, 1858 in Andrzejewo. He married Malka Kowalczyk, one year his junior. She was from the same Kowalczyk family that produced Noah, the husband of Sarah bat Herschel Zvi Sier.[17]  We know of four children of Chaim and Malka. Yitzhak Natan, Veivel, Reuven Leib, and Sarah. Of Reuven Leib, the only information we have is that he died during World War I. His brother Yitzhak, affectionately known as Itche, was born in Andrzejewo on December 15, 1887. When he was about twenty-five he married his first cousin, the daughter of his aunt Etka Mankuta and Shlomo Silverstein. Raizel, or Rose, was a year younger, having been born in Nur in 1888. Itche had been a cymbal player in a Russian army marching band. Anti-semitism among his "comrades-in arms" intensified his Jewish consciousness. He had come from a religious home and Raizel's parents were also extremely religious. Both homes had been shomer Shabbos and Torah and Talmud would be studied at every chance. Itche was observant, though perhaps not as diligently as his father. He was a brilliant young man who was well read in secular subjects as well.
Page 241
Raižei bore three children in Europe: Chana in 1913, Shlomo in 1916, and Chaya in 1923. The first two were born in Czyzewo, but Chaya was born in Kowno, Lithuania. Itche was an entrepreneur and owned several stores but he became increasingly annoyed with Polish anti-semitism. We believe that in 1923 he had already made the decision to leave Europe and was in Kowno trying to arrange exit papers. From there the family went to Koenigsberg. By rail or ship they managed to get to Cherbourg, France. On February 10, 1926 they boarded the SS Aquitania and arrived at Ellis Island one week later. The records indicate that their destination was a Joseph Wasserstein in Brooklyn. [18] We have no idea as to the identity of Wasserstein.
Itche was able to keep his family intact during the entire emigration. Now in America, they became known as Isaac and Rose with their three children Ann, Sol, and Helen. Isaac did very well in his new home. He became a manager of the French Steamship Line and later was Sales Manager of Rokeach kosher products. He remained a faithful Jew, was a strong Zionist sympathizer, and was active in B nai Brith. His profession afforded him the opportunity to travel to Israel and he visited the newly established Jewish state eleven times. The children of Isaac and Rose Mańkuta all married and each had two children. There are now eleven great-grandchildren of Isaac and Rose. Unfortunately, the intensity of Jewish identification has diminished with each generation. Isaac and Rose died within a month of each other in 1964.
Isaac's brother Avraham Ze'ev was born about 1889 in Czyzewo. Known affectionately as Veivel, he became a shoemaker in that town and married a local girl named Brucha Monkarz. The Monkarz family is another of those clans that have intimate relationships with our family and we may yet find they are relatives. Five children were born to the young couple in Europe. They were Yosef Meir in 1912, Natan in 1916, Manes in 1919, Frieda in 1921, and Chaim in 1923. Later, a sixth child was born in the United States but the young boy died at age two. Veivel left his family when young Chaim was but five months old. He traveled to Danzig where he boarded the SS Estonia. Two weeks later, on December 1, 1923, he landed in New York. His destination was his brother-in-law Meir Monkarz who was then living at 234 Division Street on the Lower East Side.[19]
It would be six years before the family would be reunited. Brucha obtained exit visas in Warsaw in 1929. She, her five children, and mother-in-law Malka Kowalczyk Mańkuta arranged passage from a Baltic port and arrived in England. From Southampton they traversed the Atlantic aboard the SS President Roosevelt and arrived in New York on October 4, 1929. Brucha was then thirty-seven and Malka was a seventy year old widow. Their destination was Veivel, who was now known as Wolf or William, and was living in
Page 242
Brooklyn.[20]  Wolf had been working as a painter in America. After a while he became a painting contractor and interior decorator. Later, after a fire ruined his business, his brother Isaac would get him a job in the Rokeach factory. Isaac's son Sol was also a distributer for Rokeach. Wolfs family started to adjust to their new life but a tragedy befell them in 1932. Sixteen year old Nathan (Natan) suddenly died. However, the four other children thrived in their new home. They reached adulthood, married, and produced nine children. All of these married and there are now ten in the next generation. Even seventy year old Malka found fresh fields to conquer in America. She was married two more times.
Wolfs son Manes, now Morris, was twenty-two when Pearl Harbor was attacked by the Japanese.
I had been working for a manufacturer of rubber stamps and got to know the trade quite well. But then the war broke out and I joined the army. I served for three-and- a-half years in the army. When I got mustered out my old boss offered to take me back as a manager but I decided to start my own business. As I said, I felt pretty confident in the rubber stamp business and I would have loyal people to work with me. My brother Joe had no real trade. It would be great to work with him. So I set up my first shop at 216 Centre Street in downtown New York. Then I moved to 128 Lafayette Street. My brother Joe was with me all the time. My other brother, Hyman, was in the jewelry business but then he got a heart attack and had to take it easy. We brought him into the Mankuta Rubber Stamp Company also. He replaced Joe's son, Melvin, who wanted to become an accountant. Today all of us are grandparents and we're happy that the family is still in the business. Freddie is Joe's son. He and his wife Toby are here. They work with my kids, Marc and Linda. It's nice to have them all so close. The business is now located on Hempstead Turnpike in Farmingdale, Long Island.[21]
Isaac and Wolf had a younger sister. Sarah was born in Czyzewo in 1904. In 1922 she wed Itche Meir Berkowitz. Berkowitz was an assumed name. Itche Meir actually came from the Kreschkower family. Immediately after their marriage, it was decided that Itche Meir should emigrate to America and after saving enough for her passage, send for Sarah. They followed that plan. Itche Meir left Czyzewo in 1922 and three years later was joined by his lonesome bride. Itche worked as a carpenter and the couple had two daughters, Jeanette and Madelaine. Both married and Jeanette is now a grandmother.
In the late 1930s Itche Meir Berkowitz still had family in Europe. He was desperately trying to get them to leave. Finally in 1939 two of his brothers were able to make arrangements.
Page 243
Ships loaded with refugees were streaming out all over the globe to whatever ports would take them – including Shanghai, which, until the Japanese closed it down in November, was the one place in the world that would take them without restriction. The Nazi regime, still bent on mass emigration as the solution to its Jewish problem, was putting on German ships any Jews who could buy their tickets, show credentials for their reception at some port, and leave virtually all their possessions behind them. Under these circumstances, landing certificates of any kind were at a premium, and soon there was trafficking in those that circulated most freely. Foremost among them that spring were those that admitted refugees to that favorite threshold for entry into the nearby United States, Cuba.[22]
The two Berkowitz brothers had booked passage on the SS St. Louis of the Hamburg-America Line. The St. Louis had the largest passenger list of any refugee ship to date; 930 of the 936 passengers were Jews. The ship with its human cargo sailed on May 13, 1939 for Havana. But it never landed though it reached port. The Cuban government refused to allow the refugees entry and the United States did the same. Despite overwhelming protests and the scrutiny of the world's news media, the SS St. Louis was forced to return to Europe. Most of the passengers disembarked in France, Belgium, and the Netherlands. They were once again to face Nazi persecution. Among them were the Berkowitz brothers who were to become two more victims of the Holocaust.
We have mentioned that Isaac Mankuta's wife, Raizel Silverstein, was his first cousin. Her mother was Etka Mankuta. Etka had married Shlomo Silverstein, a local woodsman. Their five children were, in order, Hersch Lazer, Basha, Raizel, Dvora, and Aharon.
Hersch Lazer was a religious man who devoted himself to Torah. His was a life of religious scholarship. He married and had several children. In the early 1920s he had emigrated to the United States but had found the goyishe medina hostile to a truly Jewish life and he returned to Poland. Hersch Lazer and his entire family were victims of the Holocaust.
The second child of Etka Mankuta Silverstein was Basha. She married a cousin Herschel Tama. Her family will be discussed later. Raizel was next and then came Dvora. Dvora married Israel Plosker, a bookkeeper/accountant from Rovno. Rovno is a town in the Ukraine not far from Lwow and it became the young couple's home. Like the Berkowitz brothers, in the late 1930s Israel decided to leave for America. Because of the American quota system on Jewish immigration, the plan was to go to Cuba first. Israel would take his son Asher with him and leave Dvora with their other son Shlomo. Israel and Asher Plosker landed in Cuba in 1939. They were more fortunate than their fellow Jews aboard the SS St. Louis. By 1941 they were able to move to the United States but World War II had started and their plan to send for Dvora and Shlomo was thwarted. Asher became Oscar and later
Page 244
was known as Arthur. In 1942 he was drafted and served in the Signal Corps in a unit attached to the Army Air Corps. He was sent to Europe and after some time in England, was at Omaha Beach during the Normandy invasion. Meanwhile Shlomo, who had been a brilliant medical student at the University of Lemberg (Lwow), was having a more difficult time. Arthur believes he was murdered by the Nazis along with his mother. A variation of his travail was that he had escaped behind Russian lines and was killed by a Polish mob upon his return to Lwow. In either case this fine young man was lost to his family and the Jewish people. Israel could never forgive himself for leaving them in Europe, though there was little he could do. Arthur came home from the war, received degrees from City College of New York and New York University, and did further graduate work at Columbia University. He married and has two sons. As of this writing, Arthur is expecting to be a grandfather.
Etka's fifth child was Aharon. Following in the footsteps of his grandfather Manes Mankuta, Aharon manufactured shoe lasts. Shortly after his marriage to his beloved Sarah, they were separated by the war. Aharon was sent to Bergen-Belsen concentration camp and miraculously survived. Sarah also lived past the terror years but she had suffered terribly and could not bear children. She and Aharon cared for the children of her brothers who had perished in the war. Then Sarah took ill as a result of her wartime travails. After her death, Aharon came to the United States with the niece and nephew in his charge.[23]
Footnotes:
[1] Early Mankuta data is extracted from Genealogical Society of Utah, Jewish Records From Andrzejewo, microfilms 808,606-808,608; 808,589; 808,590; 808,614-808,616.
2 The reader is reminded that the suffix wicz means "son of in Polish and owna means "daughter of."
[3] Chana bat Ze'ev Abramowicz and Ita Leyzorowna Mlot.
4 Aharon Manor (Mankuta) of Beersheva, Israel has been of invaluable aid in this research.
[5] Condensed from Sergei (Shmerl) Berkner, "The Resistance in the Bialystock Ghetto," Bialystoker Shtimme, December 1994, pp. 23-27.
[6] Irving Mankuta recalled that the name was Minton rather than Minken. The Manors of Israel insist the name was Minken. We have been unsuccessful in finding Zawel's descendants.
[7] From a paid advertisement to help publish Lezichron Olam (Zaromb Yizkor Book), ed. Z. Dorfman, N. Lava, Z. Romaniek (Roman) (New York: Zaromber Relief Committee, 1946), page not numbered.
[8] During the 1940s, the Firestone Rubber Company sponsored a popular weekly radio program with a live symphony orchestra playing light classics.
[9] Letter, Harry Mańkuta to Arthur F. Menton, January 1, 1992.
[10] Martin Gilbert, Atlas of Jewish History (USA: Dorset Press, 1984), pp. 105-106).
[11] The watchmaker might have been Yehuda's brother Kalman.
[12] "A Memoir From 'Antek'", B'rayshit: The Ser-Charlap Family Newsletter, vol. 4, no. 4 (Kislev/Tevet 5754): pp. 1-3. A slightly different translation appeared by Barbara Harshav in Yitzhak Zuckerman, A Surplus of Memory: Chronicle of the Warsaw Ghetto Uprising (Berkley: University of California Press, 1993).
[13] Interview with Yehuda Manor (Mankuta), Centerport, New York, May 29, 1992.
[14] Adapted from Lezichron Olam (Zaromb Yizkor Book), ed. Z. Dorfman, N. Lava, Z. Romianek (Roman) (New York: Zaromber Relief Committee, 1946), pp. 21-23.
[15] Littman is an unusual given name and could be incorrectly recorded due to language difficulties. Aharon Manor thought the name might have been Sender.
[16] Interview with Treina Rydz, Miami, Florida, January 10, 1989.
[17] See Chapter IX.
[18] U.S. National Archives, Records of Alien Passenger Arrivals, Port of New York (Ship Manifests), vol. 8624, page 23, lines 5-9.
[19] U.S. National Archives, Records of Alien Passenger Arrivals, Port of New York (Ship Manifests), vol. 7825, page 61, line 11.
[20] U.S. National Archives, Records of Alien Passenger Arrivals, Port of New York (Ship Manifests), vol. 10051, page 69, line 6-12.
[21] Interview with Morris Mankuta, Huntington, New York, June 23, 1994.
[22] Ronald Sanders, Shores of Refuge: A Hundred Years of Jewish Emigration (New York: Henry Holt & Co., 1988), p. 465.
[23] Much of the information on the descendants of Etka Mankuta Silverstein was obtained in two interviews: with Helen Mankuta Fagin, Freehold, New Jersey, March 20, 1994 and with Arthur Plosker, Lakehurst, New Jersey, April 13, 1994.
 26 December 2022.

The book of destiny : תולדות חרלף = Toledot Charlap – Toldot Harlap – by Arthur F. Menton.
First published 1996. Cold Spring Harbor, N.Y : King David Press. ISBN 0965444104.
Text © Arthur F. Menton and © Gil Dekel.
Images © Gil Dekel.
Permission to publish on this website was granted from Arthur F. Menton.
Publication on this website © Gil Dekel. Do not make any copies of this text and/or images without explicit written permission. Formatted for the web by Dr. Gil Dekel.