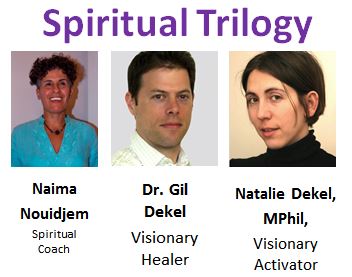 With Gil Dekel, Natalie Dekel, and Naima Nouidjem.
This program has been created by Gil, Natalie and Naima, through the protection of the archangels, the ascended masters and guides of the highest and the purest light. It empowers you to release what no longer serves you, unfold your spiritual gifts and embrace your life purpose. This 21 day program starts from the moment you start listening to the material and its effect is beyond the 21 days.
You will receive:
1 audio Healing & Activation to manifest abundance
6 audio Healing & Activation of your 12 chakras
1 Healing & Activation to connect with your Higher Self
1 Healing & Activation to connect with the Divine Presence
4 Healing & Activations of your survival archetypes
1 video giving an NLP process for creating new neuro-pathways to sustain positive thoughts forms. This is a fun exercise to do for 21 days.
One template for your Quantum Plan
6 meditations/activations (Angel Yofiel, Dolphins of Light, Diamonds 3rd eye, Find your creator, Inner Sun Bliss Lake, Living Flame).
The programme is offered at $149 US dollars (about £97 British Pounds) instead of $333 !
Not sure this is for you? Contact us here for informal chat!
– Gil Dekel
* Dr Gil Dekel is doctor of Art, Design and Media, Reiki Master/Teacher, and Art Healer. Dr. Dekel is not a medical doctor or medical practitioner. ~ Natalie Dekel is Reiki Master/Teacher, Yoga Practitioner, and Visionary Artist.  ~ Naima Nouidjem is Spiritual Coach.
10 May 2015.