With Gil Dekel, PhD.
This short video presentation can help you build your lesson's plan. For templates, see below.
Shofar paper – template and instructions:
The children love this Shofar, but remember: once they have made it they will not stop blowing it – and the party will get a bit noisy. So maybe consider to do this activity last.
Click here for PDF template.  You can use hooters, but Kazoos will also work well. You can also use paper straw.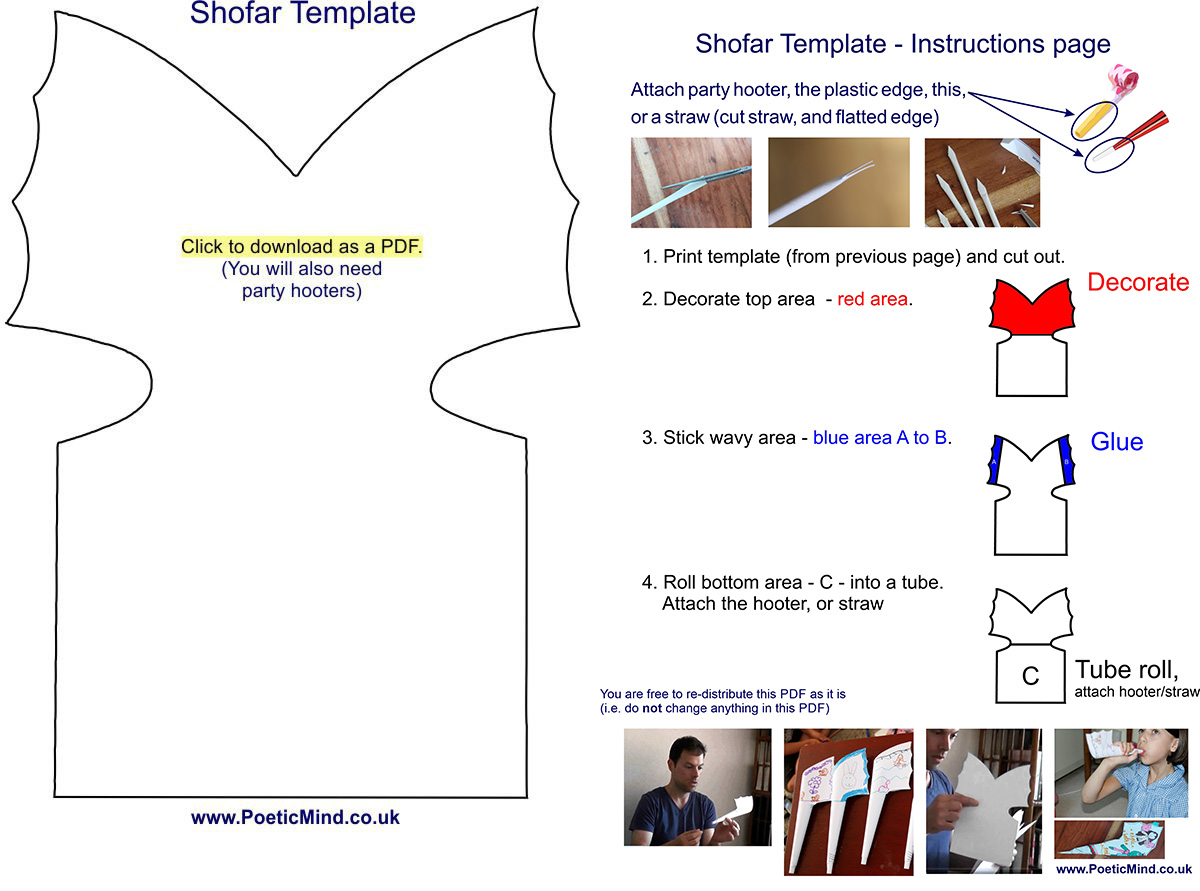 Shofar instructions (click to open):
1. Print template (from previous page) on a card, and cut out. A card of 100grams or more will be best.
2. Decorate top area – red area.
3. Stick wavy area – . blue area A to B.
4. Roll the bottom area – C – into a tube. Attach a hotter, Kazoo, or a straw.
Flap the Bees to the Flower – A Game
Click to download PDF template. Print on A4 paper. Place the bees and flowers on the floor. The children need to use a card to 'flap' the bees along the floor to the flowers. You can also blow, instead of flapping.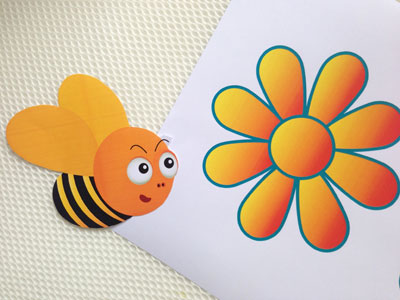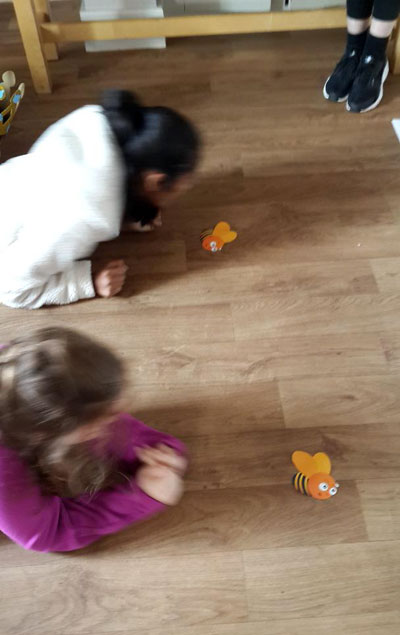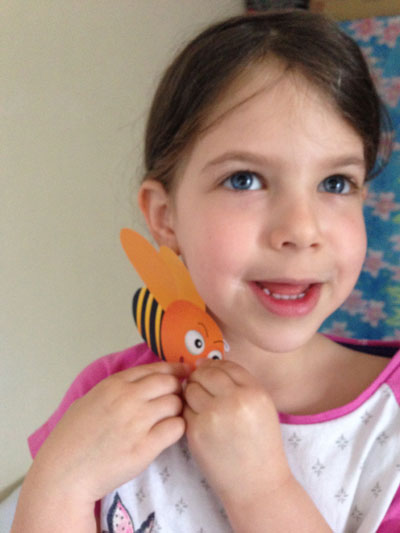 Help the bee reach the flower. Rosh HaShana game. (Photos: Gil Dekel).
Apple chest (box):
Cut the bottom of 2 plastic bottles, and place one inside the other. Use hot glue to attach leaves (cut from fabric, or paper). Pad with green paper, and add sweets. Children can also make a wish.
---
Cards – sliced apple for stamping cards:
---
The Wishing Cake:
Have the children choose a wish for the New Year, and write it on a cake using cake decoration pen. Each child to have a slice of their wish/cake… Best to use large, flat cake, so it is easy for children to write. The cake below was bought from asda at £10.
---
Wishing Tree:
Create room-size tree. Each family member writes a wish, or a resolution for the new year, on a leaf…
---
Children story for Rosh HaShana.
By Gil Dekel.
Rosh HaShana is the Jewish new year. "Rosh" means head, which also means new. "HaShana" means a year. So it means: the New Year.
What happens in the New Year? Something very special… All the angels are standing at the sides of the sky, and they open up the sky wide. And from the centre of the sky God is looking down at us.
The New Year is the day where we tell God all the things we did not like last year, so that He can put them away. We then tell Him all the things we want to happen the next year, and He writes it down in a special little book
However, the angels always need help opening the skies. They can't do it by themselves. To help them we do this small thing which is called "Shofar". It is like a trumpet, but made of a horn of a ram. And when we blow it in Rosh HaShana it makes a lot of noise. The noise gives the angels a lot of energy to open the gates of heaven.
---
© Gil Dekel.
25 Sep 2013. Last updated 18 Sep 2023.