By Gil Dekel, University of Portsmouth.
---
First published in Consciousness, Literature and the Arts. ISSN 1470-5648. Volume 9 Number 1, April 2008.

---
Plato's suggestion 'know yourself' raises the question: How can one know oneself? What are the tools available for discovering self-knowledge?
Making poetry could be argued such a tool of self-knowledge (Curtis, 1996: 12-13), where inner emotions and experiences are externalised and verbalised by the poet (Piirto, 2005: 1). Experiences are transformed into words, i.e. into ideas and meanings (Cassirer, 1946: 28), providing a written document; a form of material for evaluation and self-reflection.
'Waterised Words' is a pilot art experiment, held initially at Portsmouth University Gallery, Jan/Feb 2007, as part of practice-based PhD research exploring the process of writing visionary poetry as means for gaining self-knowledge. Being a poet, graphic designer and filmmaker I have an interest in self-knowledge, which I consider to be a form of 'intelligence' separated from myself and that inspires me for visions for my arts. This is why in my PhD I explore the process of poetrymaking, the process of inspiration, rather than the 'final' written poem.
For me, being a poet means to experience words with your senses, emotions and the whole being rather than 'clinically' organize them into cultural guided structures of sentences and forms of expressions. Hence, 'Waterised Words' was arranged as an experiential experiment, where visitors were invited to sense for themselves a process of poetic words, on four levels, ranging from a physical/concrete stage (symbolized with water installation) to an abstract/spiritual stage (symbolized with printed poetry lines hung loose from the ceiling).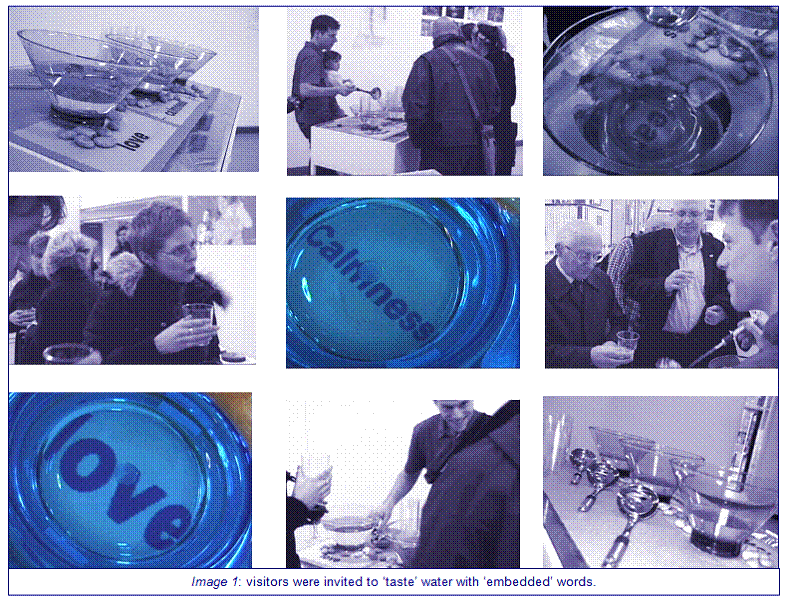 I have created bowls of drinking water with different words printed on bottom of each bowl. The water was drinking water and nothing was added to the water. Words, such as love, fear, calmness seem to affect us not only mentally but physically as well. Their 'energy' could be argued to continue to reverberate long after the words were spoken into the space around us. Visitors were invited to drink from the water with the 'embedded' words, and suggest if they feel any differences in the tastes. By tasting the water with words and comparing the tastes I hoped visitors could sense for themselves the trace that every word leaves in us. Visitors' responses were varied and surprising, and were filmed on video for use in a future film (visitor responses will be available as a transcript on poeticmind.co.uk). However, I did not design this experiment as a qualitative project to obtain data to analyze and present in my research, but rather as an art experiment aiming to inspire and raise issues which are usually overlooked.
Water was used in order to enable visitors the opportunity to 'taste' words, in addition to reading words. Water sustains the basic physical need for people's existence, and words within water symbolize a most physical level of poetrymaking – Sustainability.
To enhance the experience of words I have created various art forms around the installation space. Alongside the water installation, a show reel of my films on poetic experiences was projected on the wall (films can be viewed on http://www.youtube.com/gldek). The films acted as "projected poetry", giving visitors the opportunity to hear and see those experiences. The form of a film, a moving image, symbolizes a second level of poetrymaking – Movement.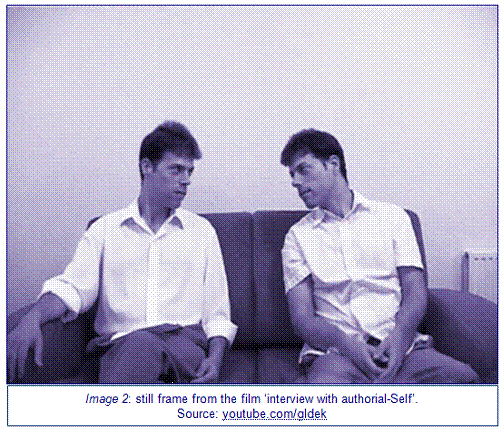 Next to the films was a series of large acrylic portrait paintings with poetry printed on them, inviting the visitors to touch and feel the texture of painting and printed word. This "painted poetry" symbolizes a third level of poetrymaking: still images, stoppage of time – Equanimity.
A forth element of this experiment was poetry lines printed on stripes of transparent tracing-paper, which were hung from the ceiling.
Visitors were invited to stand in front of the text, or behind it, reading the 'back' side of the text. This "loosen poetry" aimed at raising the question of the position of words in the poet's and the readers' mind. Where do words 'occur' in the mind? in front of us? or behind? And, where do words come from? Where do words go once they leave us?
These questions attempted to contextualise the place of poetry in every day reality, whilst, on the other hand, symbolizing a forth and most abstract level of poetrymaking: instances of appearances of poetic inspiration – Countenance.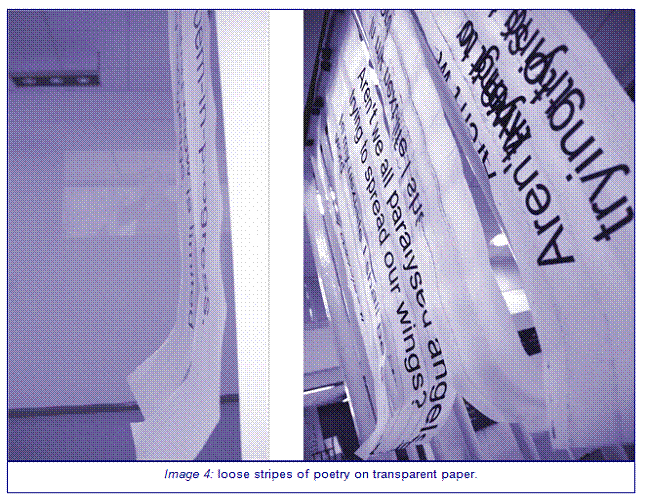 Through positioning the process of poetrymaking within four experiential levels – Sustainability, Movement, Equanimity and Countenance – this exhibition attempted to externalise and share, through artistic anticipatory experience, the levels in which poetic experiences seem to operate.
Bibliography
Cassirer, E. (1946) Language and Myth. Translated from the German by Susanne K. Langer. USA: Harper & Brothers.
Curtis, T. (ed.) (1996) How Poets Work. UK: Seren.
Piirto, J. (2005) "The Creative Process in Poets". In Kaufman, J. C. & Baer, J. (eds.) Creativity Across Domains: Faces of the Muse. Mahwah, NJ: Lawrence Erlbaum Associates, pp. 1-22.
3 August 2010.
Gil Dekel.