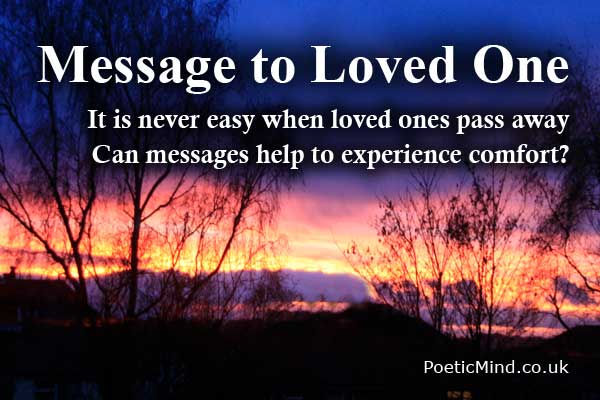 It feels as if only a thin veil separates us from them. If you could send a message to loved one who passed away, what would you say?

Write and share your message to loved one here:
If you have lost a loved one, who passed away, you must be overwhelmed with emotions. We hope that writing your massage will help to bring some peace to your heart.
Book a session to receive a message; click here.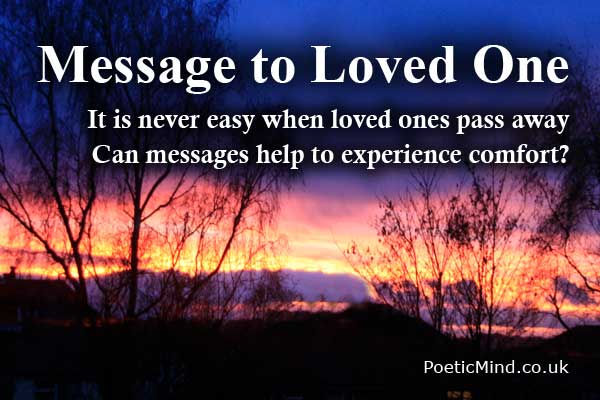 7.30pm, Fri/Sat/Sundays. £6. Places are limited.
> Contact us here to arrange a date (we could also work online). Please let us know the name of the loved one who passed, and tell us a bit about your connection to them.
Come and share your experience and receive a message from loved ones. We meet in SO17 Highfield area (if you cannot make it, we can work online).
Your hosts, Natalie and Gil Dekel, are both Reiki Masters/Teachers, academics, and visionary artists. Read more here.
Get inspired by other messages:
Why did you leave that way leaving yourself for me to find are you really there have you been here this whole time were you there the day I found you where are you at what is it you want to tell me what is it I need to know I know you're there I see the signs… I've been trying to grow and get our connections stronger hope you see that I will forever honor you if anyone doesn't just know I will forever honor you you changed my life and I love you baby bunny I know you're a sweet little bunny washing over me I saw the little bunny of the other night and I know that was you watching over me I love you and I miss you more than words can't explain I would give my next breath just to hear your voice for a second to smell you to feel you I love you tell me what you need me to know and I'm listening…
Alicia –  28 September 2020 at 8:39 pm.

---
Six years ago at a time like this, mom you were so weak, you looked so fragile lying in that hospital bed. The painful side effects of chemotherapy did not kill your zeal to live. A few days later you gave up the ghost. Mama, I lack words to express the hollowness I feel inside.
Life lost meaning the day you left. Mama, I miss you and would do anything to have you back and to see your smile. The instances I'd come home from work bearing presents for you; I can't get over the way you would dance with joy especially wearing the beautiful dresses.
These days I can't even bring myself to look at the different designs. When I think of the lost chance to dress you up again my eyes fill with tears. Just the other day it was Christmas still. I cannot begin to tell you how lost I felt when all my friends left the city to visit their mothers. I guess it's a feeling I have to learn to live with for now. I can only hope that there is another life after death and that I will have the opportunity to see you again. Love always. Irene.
Irene –  2 January 2019 at 4:25 pm.

---
Papa, I remember watching a show where a little girl's grandpa passed away, and I remember praying to God that I would never be in the girls situation. But one day I was, and it still hurts even after what someone might consider a long enough time for the the pain to pass.
I was there with you when you took your last breath, and I just want you to know that I did hear you when you told me you would see me later, because I said it back in our own special way. I hope you're proud of me, even though I made some decisions you would have never made. I hope that the path I'm taking now makes you smile.
I love you, all the way to the moon and back. I always will.
Anne Sherron –  1 January 2019 at 7:10 pm.

---
Dad, it's two years since you left us and it feels like yesterday. You did not even give us a chance to say goodbye… but the smile on your face when we laid you to rest gave us peace.
Mom still treasures you with her life. At times we joke that she is too young to stay alone but pointing at your photo, she says, 'my husband is right here with me'. I know she still hurts but she is a strong woman!
Did I tell you that your baby graduated? Yes, I did! I was sad that you did not wait for my graduation… you were not there to celebrate my achievement. Dad, I even refused to have a graduation party. But I am now okay and happy that you are no longer in pain. We miss your laughter and your love, dad. We miss opening the door and hugging you when you come home from work… life is no longer the same without you. But you taught us to remain strong and united and this keeps us going.
Dad, I finally found love. His name is Gerald and he loves me! I was sad again when you were not there to walk me down the aisle. It's okay, mom was there on your behalf. We now have a son and when I look at him, I thank God and pray that he will be as strong as you, dad.
Continue resting in peace till we meet again. With Love, Leah.
Leah –  1 January 2019 at 3:11 pm.

---
To mum: I miss you so much. Nobody loved me as you did. You don't know what people did to me after your death. Especially my big sisters. They have changed, and have treated me in bad ways. They want to take your money and your gold; they just care about money, no passions inside their hearts.
Mum, I cried for many years, but now I have become independent woman. I'm a mother now. I learned to be a beautiful mother like you, always laughing and talking to my children like friends. I cook for my family as you did for us. Oh, I remember these days now and it makes me feel better.
I had a lot of pain in my life and I didn't find anyone to help me. I always said that if my mother was here that I would not suffer so much. Mother, I always dream about you. This is a good thing, which helps me continue in life. I wish that you could see me at my wedding day, and see my children, your grandchildren. I always talk to you and tell you about my sadness and my thoughts. I'm wondering how I managed to survive. Maybe I'm strong because you were strong.
Your daughter, Esraa.
Esraa –  1 January 2019 at 2:50 pm.

---
Dear aunty Carol.
They say time is a healer, but every time I think of you emotions overwhelm me. It's been two years, two tough years. I can't come to terms with your demise. I keep searching for you, looking at my phone hoping to hear your voice, albeit one last time. But it's all vanity. Your smile lingers in my dreams, and I wake up empty.
I believe you are in a better place aunty.
Rest in peace.
Dorothy –  1 January 2019 at 10:40 am.

---
Mom I Love you, I wish a million times we could do things together that I have missed. But whenever my heart is breaking and grief is overwhelming I also Know that you are here with me holding me and supporting me.
Natalie –  1 January 2019 at 10:24 am.

---
Dad, I love you now, even more than before.
Gil –  31 December 2018 at 11:20 pm.

---