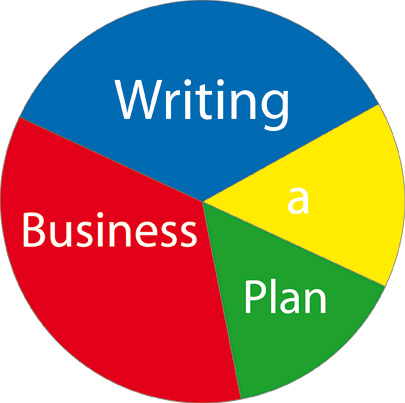 by Gil Dekel.
In order to reach your destination you must first know where you are standing, and what is the right path for you to take. A business plan is a document that designed to help you identify your business' current state and the best way to move it forward.
Writing a business plan helps you formulate your business' goals, your unique selling point, operational structure, marketing strategies, resources and investments you may need in order to develop your current business or establish a new one. Many investors are looking for annual return of 45% to 60% over 3 to 5 years1, which is why it is important that you write a business plan focusing on the first 3 to 5 years of operation.
After conducting a market research on your field, the business plan will help you to develop a systematic strategy for increasing your profit.
How to write a business plan? Here is a business plan structure and the sections that need to be included when writing your business plan (see also Table of Content sample below):
Cover page:
Name of the business, contact details of the person who submitted the plan, and date.
Table of contents:
A quick overview of the document's content.
1. Executive summary:
A concise summary highlighting the:
– services (or products)
– geographical area of operation
– objectives
– mission
– company staff
– targeted clients and marketing
– budgets
– keys to success
– timescale.
Many investors read this section first, so it must be concise, short, to the point, and engaging with relevant details.
About 2-3 pages.
2. Company summary:
Basic information on the current status of the business, ownership, successes to date, expertise, and start-up summary.
3. Services:
Details of services, and how they are delivered to clients.
4. Market analysis:
Your target market and its size, trends, segmentation, and the opportunity for revenue.
This section should include analysis of your potential clients, where they are based, what are their needs, why they will buy from you (how your services meet market needs), and how much of your services they will buy. If you already have paying customers include that information in this section, and specify how much they are paying.
Also describe in this section your competitors, their services, their advantages over you as well as disadvantages which you can fill.
5. Strategy and Implementation summary:
This section is your marketing strategy, describing your competitive edge and tactics in promoting and advertising your services. Discuss your sales strategy, forecast, and milestones. Use a SWOT analysis.
6. Management summary:
A short description of the management.
7. Financial plan:
A realistic estimate for investment required (start up funding), projected profit and loss (income), projected cash flow statement, projected balance sheet, as well as break-even analysis which indicates when the business will become self sufficient and solvent.
Appendix:
Include in the appendix detailed tables of sale forecasts, personnel payroll, Profit and Loss, Cash Flow, and Balance Sheet. Include also any promotional materials, media publications, awards, and other materials you wish to share with the reader.
* End of business plan structure *
---
While many people have a skill, they do not seem to exploit that skill fully and open "…up a shop or set up a business" as Lord Alan Sugar says2. A business plan helps you clarify where you should focus in developing your professional direction as well as your personal goals. It will help you to move away from what Robert Kiyosaki 'Cash Flow Quadrant' describes as an 'E – Employee (driven by benefits)' to a 'B – Business owner (driven by systems and ideas)' or an 'I – Investor (driven by absolute freedom)'3.
---
Sample of business plan's
Table of Content

:

1.0 Executive Summary

Chart: Highlights

1.1 Objectives

1.2 Mission

1.3 Keys to Success

2.0 Company Summary

2.1 Company Ownership

2.2 Start-up Summary

Table: Start-up

Chart: Start-up

3.0 Services

4.0 Market Analysis Summary

4.1 Market Segmentation

Table: Market Analysis

Chart: Market Analysis (Pie)

4.2 Target Market Segment Strategy

4.3 Service Business Analysis

4.3.1 Competition and Buying Patterns

4.3.1.1 Competitor Overview

5.0 Strategy and Implementation Summary

5.1 SWOT Analysis

5.2 Competitive Edge

5.3 Marketing Strategy

5.3.1 Marketing Tactics

5.4 Sales Strategy

5.4.1 Sales Forecast

Table: Sales Forecast

Chart: Sales Monthly

Chart: Sales by Year

5.5 Milestones

Table: Milestones

Chart: Milestones

6.0 Management Summary

7.0 Financial Plan

7.1 Start-up Funding

Table: Start-up Funding

7.2 Important Assumptions

7.3 Break-even Analysis

Table: Break-even Analysis

Chart: Break-even Analysis

7.4 Projected Profit and Loss

Table: Profit and Loss

Chart: Profit Monthly

Chart: Profit Yearly

Chart: Gross Margin Monthly

Chart: Gross Margin Yearly

7.5 Projected Cash Flow

Table: Cash Flow

Chart: Cash

7.6 Projected Balance Sheet

Table: Balance Sheet

7.7 Business Ratios

Appendix

Table: Ratios

Table: Sales Forecast

Table: Personnel

Table: Profit and Loss

Table: Cash Flow

Table: Balance Sheet

**

Bibliography (for this article)


1. Pinson, Linda. (2004). Anatomy of a Business Plan: A Step-by-Step Guide to Building a Business and Securing Your Company's Future (6th Edition). Page 20. Dearborn Trade: Chicago, USA.

2. Key Lessons from Alan Sugar Autobiography 'What You See Is What You Get' (reviewed by Gil Dekel, PhD). [Page 10]. Retrieved 28 July 2011.

3. A Short Summary of 'Your Financial Rules: Change Your Mind, Change Your Life', online webinar by Robert Kiyosaki's Rich Dad Coaching. Retrieved 28 July 2011.




28 July 2011. Updated 3 Aug 2011.
© Gil Dekel.